What's the meaning of 'cravings' and how to use it in a sentence.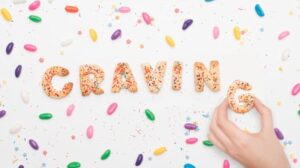 During both my pregnancies I had a lot of cravings of weird and wonderful things. The word 'to crave' (verb) or 'cravings' (noun) and it describes a strong desire for something. In English is very common to use it to talk mostly about food (food cravings). Most people get cravings such as fries, or junk food, ice -cream or fizzy drinks.
Example sentences: 
I have a big craving for sweets
I was craving for McDonald so we decided to get a take away.
My partner usually craves for Chinese food during the weekend.
HERE YOU HAVE SOME EXAMPLES FROM MOVIES 
EXAMPLE 2: